Vespa Tour
Vespa Wine Tour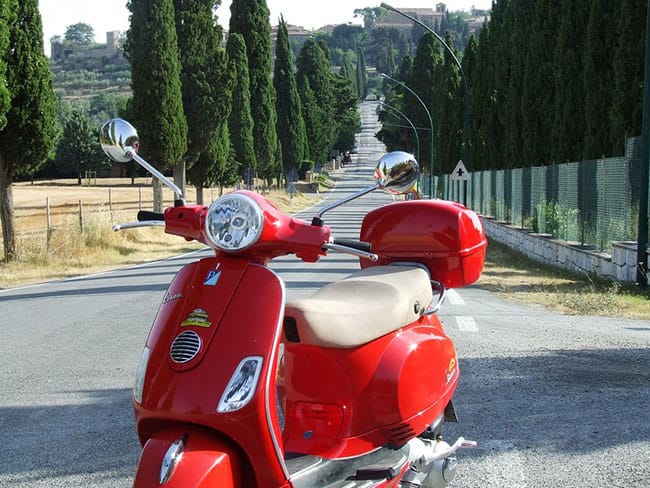 Vespa Wine Tour
An unforgettable experience
A Vespa tour is certainly the perfect way to fully enjoy Tuscan countryside landscapes to respect the environment and a still unspoiled nature. While riding a Vespa amid fascinating sceneries you could stop several times to visit the historic centres of Tuscan villages to discover the flavours of the territory through wine tasting and local produce tasting or even by simply taking a picture. You will long remember this experience and a piece of your heart will remain forever within these places.
The Cortona Wine Tour staff will deal with delivery of scooters at your accommodation facility and will also provide you with helmets for riders and, if required, helmets for passengers as well as a GPS. One of our collaborators will lead you along the road to make this amazing experience really unique and to make you feel safe while riding and to help you in case of need or breakdown.
You can choose the Vespa tour in Tuscany you prefer within the areas of Cortona, Montepulciano or Montalcino in order to enrich your day with a visit including wine tasting at one of the best wineries in the area you have chosen and a lunch in a traditional restaurant to taste real Tuscan food. Photography lovers may stop to take beautiful pictures of the landscape and sceneries of the Tuscan hill and countryside and, during the good season, it will be possible to rest and taste a delicious homemade Italian ice-cream.
A staff member will explain to you how to ride a Vespa before leaving for your tour, so that you can feel at ease and comfortable when you will be riding on the road. Please be reminded that you should have previous experience in riding scooters in order to spend a pleasant day safely.